7 SCHOOLS: Resurrection | Pine Pollen Tincture

Sale
Explore the benefits of Resurrection, a natural tincture designed to support men's health. This unique formula contains properties that may counteract the effects of aging and works to promote lean muscle growth. While using this tincture, some people have reported potential improvements in focus, cognitive function, and liver health. Please note that if you have allergies to tree nuts, pollen, or certain tree barks, or if you are already taking hormone supplements, caution should be exercised when considering this product. Elevate your well-being today with Resurrection Pine Pollen Tincture.
Resurrection is a powerful all-natural tincture designed to support men's health. With anti-inflammatory and anti-viral properties, it helps fight against aging and increases lean muscle growth. It also offers organ support and natural remedies for erectile dysfunction and testosterone production. 

Benefits include:
Sharper focus and cognitive function*
Decrease the effects of aging*
Reduce systemic inflammation*
Liver support*
Supports lean muscle growth*
Pine Pollen Precautions
Generally, pine pollen as a supplement is not recommended for children and should be avoided by male adolescents, who on average naturally produce healthy amounts of testosterone or if you have serious allergies to tree nuts, pollen, or the bark of certain trees.
It is also important to start using pine pollen in small amounts, regardless of whether you have hormonal problems or not. It is possible that large amounts of phyto-androgens could upset the balance of your hormonal system if it is already balanced.*

Do not use pine pollen if you are already taking other supplements for your hormones.*
Cracked Cell Pine Pollen, Black Ginger (Kaempferia Parviflora), Full Spectrum Cannabidiol, Cane Ethanol, Distilled H20

Bottled in 50ml Miron Glass Jar
What is Pine Pollen?

Pine Pollen is a powdery substance made up of grains discharged from the male part of the pine cone of tree species such as from Pinus massoniana. Pine Pollen naturally contains bioavailable forms of androgenic hormones like testosterone, DHEA (dehydroepiandrosterone), and Epitestosterone. Pine pollen is rich in DHEA, which plays a crucial role in hormone production in the body. DHEA imbalances can lead to such conditions as depression, weight gain, hormonal imbalances, and cognitive issues. Additionally, Pine Pollen also contains a wide variety of other Phytosteroid compounds. It is a good source of minerals such as potassium, sodium, calcium, magnesium, phosphorus, iron, manganese, copper, zinc and selenium. What makes pine pollen so unique is that instead of simply providing you a boost of testosterone, it actually promotes your body's ability to build its own.*

Anti-inflammatory

Pine pollen acts as a powerful natural anti inflammatory. Inflammation is one of the primary factors contributing to erectile dysfunction in men.* The pollen is considerably more potent as an extract when taken for these purposes and can be specifically useful for middle aged adults, between 40-50, and the hormonal fluctuations that occur with the aging process. Men in particular, usually by the age of 50, produce substantially less testosterone. This is especially true after male "andropause".* Lean Muscle Growth

One of the most desired benefits of Pine Pollen for men is its natural support of the growth and maintenance of lean muscle as well as optimal levels of testosterone. The natural hormones found in pine pollen provide the body with a supplemental source of the essential hormones necessary to grow and maintain lean muscle. The Phytoandrogens are the reason that pine pollen is so sought after as a workout supplement.*

Organ Support, Anti-Aging and Anti-Viral

Pine pollen has loads of sterols, which are naturally occurring plant steroids. Phytoandrogens are very rare nutrients to find, especially from a plant basked source. Brassinolide improves liver function
, Castasterone is a strong antiviral
, and Gibberellins help regulate prostate size.*
Pine Pollen along with Black ginger may be one of the most powerful combinations for slowing down the aging process by improving immune function and lowering the systemic inflammation that often leads to cellular oxidation. These extracts have been used in China for thousands of years as an anti-inflammatory treatment, as a way to clean up free radicals, and to slow the aging process.*

Mood and Cognitive Function

Pine pollen contains phenylalanine. Phenylalanine is a nutrient that's important for maintaining mood. It is a component of many of the neurotransmitters that are used to help maintain a positive outlook and support mental health.* Phenylalanine is one of the precursor compounds for dopamine, which is the main neurotransmitter associated with mood, motivation, and wellbeing. When we feel accomplished or satisfied, our brain is releasing a surge of dopamine. This in turn renders pine pollen as a natural treatment for depression.* Having a good source of phenylalanine in your body supports your brain's ability to produce dopamine. This is particularly useful if you suffer from a dopamine imbalance due to stress and unhappiness.*

Improved Blood Flow

Pine pollen's optimal source of amino acids and antioxidants help regulate levels of stress hormones in the body and encourage the proper flow of blood. This also aids in helping the reduction of high blood pressure.* Healthy blood flow supports brain and organs oxygenation. Foods like pine pollen, that improve the oxygenation of the brain, are known to help improve cognitive function as well as organ optimization.*


About Kaempferia Parviflora (KP)

Kaempferia Parviflora (KP) is a member of the family Zingiberaceae (Ginger) and found in the northern part of Thailand. In Thai traditional medicine, the rhizome of the plant has been used for treating hypertension, erectile dysfunction, inflammation, as well as for the promotion of longevity with good health and well-being. In Laos folk medicine, the rhizome has been used for treating high blood glucose level, increasing blood flow and improving vitality. In Japan, KP extract is marketed as a nutrition supplement for the treatment of metabolic syndrome (obesity).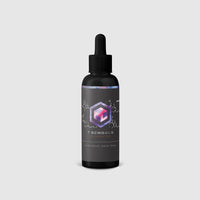 7 SCHOOLS: Resurrection | Pine Pollen Tincture
- Sublingual Liquid
$96.00