our approach
Prioritizing Conscious Growth for Optimal Wellbeing
We strive to offer incredible products that are at their highest bioavailable potential so that they can be absorbed efficiently by the body.
Shop All Products
Our Founder


Adam Ian is a formulator, educator and successful entrepreneur with twenty seven years experience in the natural products industry as an herbal formulator and Director of Operations for multiple business lines, both domestically and internationally. Currently cultivating custom genetics in both Hemp and Medical Cannabis categories as well as specializing in Human Biochemistry & Microbiology applies in formulations under his current brand Elemental Wizdom.

He graduated from State University of New York Empire State with degrees in Business Management and Economics, Labor Studies and Electrical Theory. A lifelong learner, Adam has become highly proficient in many studies and disciplines, including meta-science, nutritional science, religion, sound physics, urology, philosophy, abnormal psychology, music theory, guitar and jazz improvisation. He has worked with parents of children with disabilities to restructure their diets to alleviate nutritional deficiency.

Inspired by visions of better living and anchored in the vibration of a positive attitude, he maintains a vested interest in personal, physical and mental health. Adam is the founder and alchemist of Elemental Wizdom®, a natural line of high end functional foods and essential oils, informed by years of personal nutritional supplementation and consciousness exploration. Grounded in the metaphysical understanding that form follows frequency, Adam has become an expert in formulating high vibrational, quality health foods and wellness products.

He is delighted to use his commitment to a healthy lifestyle to continue to aid others in raising their frequency to actualize the same personal transformation and profound healing revelations he has been privileged to unearth through his deeply nutritive products, education and creative expression.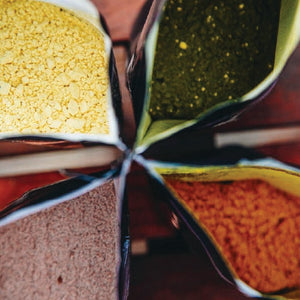 Meaningful Results
At Elemental Wizdom, our goal is to provide products that help people feel their best, now and in the years to come. We believe that natural formulations can be a powerful tool to help us increase longevity and potential for happy healthier lives. Our products are carefully constructed to provide a convenient, effective, and safe way to get the most out of what nature has to offer.
The key to an effective natural formulation for human longevity lies in the formulation of the most
bioactive and bioavailable ingredients.
While all of our products that are designed to last may be more expensive upfront, they can actually be more cost-effective in the long run. This is because customers won't need to replace them as frequently, which can save them money in the long term. Also, by creating products that are built to last, we are able to reduce waste, save money, and increase product satisfaction.